Ok, so you're a little behind. Father's Day is this weekend and you're just starting to look at gifts.
Deep Breath. It's ok. Here are 10 gifts that are perfect for Father's Day and don't take a lot of time.
1. AMAZON
They never do us wrong! With their fast delivery and prime shipping options, you can get something here by Sunday if you order today!
2. Golf Gift Card
I just bought this for Mike today! It took me 5 minutes to run into the course office and buy him a gift card. Also, don't be dismayed by the prices, you can do just about any amount. Mike likes to do 9 hole rounds with some buddies so I bought him 4 of those and it only cost about $60.
3. HomeDepot
Hit up the local Home Depot if you have a DIYer of a husband. Even if you're not sure what to get, a gift card goes a long way!
4. Shaving Deals
Before Mike became a caveman, he found he really liked having nicer shaving gear. I could easily restock his
The Art of Shaving
set for a quick and easy gift.
5. Camping Get-A-Way
Even if you're not quite ready to hit the trail with your gear, a "gift card" to a camping trip is a really fun, easy, inexpensive way to say Happy Father's Day. After you give it to him, you can pick a weekend, plan it out, and head out. Just knowing you're willing to brave the cold, hard ground is a gift for him.
6. Clothing Subscription
I'll be honest, if I gave this to Mike, it would really be a gift for me. He's a t-shirt and shorts kind of guy but this might be just the thing for your dapper fella.
TrunkClub send you clothing to try out. Keep what you like, send the rest back. The personal stylists help get to know your style so you're looking great no matter what your level of style may be.
7. Watches
Mike loves watches. In fact last year, I bought him this watch case to hold his favorite watches. He loved being able to display them and I love when he pulls out his favorite for a special occasion.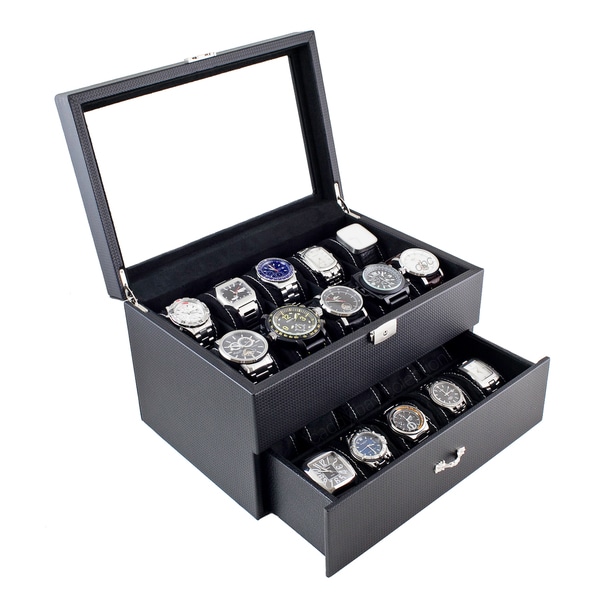 8. Mission Belt
These belts are the coolest! Mike LOVES his. No loops to worry about, sizing that's way more custom, and less wear and tear.
9. Grill Basket
I put together a BBQ basket for Mike complete with all the grillin' tools and a gift card to say, "Go Buy a Grill!". He was super excited!
10. A Nothing Day
My hubby would love a nothing day. Favorite movies, some video games, pizza. Just a day to relax, play with his pup, and not feel like he should be mowing the lawn or helping someone out.